Game 48: Twins at Tigers
PREGAME: Remember the last time the Tigers swept a series? They were in New York and went to play the Twins and then got swept themselves. Let's not do that again.
Did you know the Twins have played 28 of their games in the confines of the dome and are 16-12 there? But when they head on the road they are 7-12? Let's hope that trend continues as Armando Galaragga takes his turn in the rotation.
For the Twins it will be Kevin Slowey who is making his 5th start of the season. He hasn't made it through the sixth inning yet, but posts a 16:3 K:BB ratio over 19.1 innings. His achilles heel has been the long ball with 6 surrendered all ready. Last year he averaged over 2 allowed per game as well.
MIN @ DET, Friday, May 23, 2008 Game Preview – Baseball-Reference.com
IN GAME: I think Leyland had a beef. Those were called strikes in that Guillen at-bat: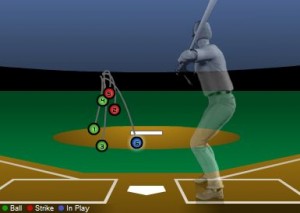 POSTGAME: Well, it got interesting there for a while. I missed the first 3 innings while at my son's game so I didn't see Galarraga walking everybody, but it sounded similar to his last start against the D-backs but the Twins added hits as well.
The Tigers couldn't get to Slowey and couldn't take advantage of his tendency to hit homers, but the offense still managed to put runners on base in most innings. And they did double his walk total for the season (and should have more than doubled it – see above graphic) so they did exhibit some patience.
An inspired rally in the 7th cut it to one, and could have tied it save for the comical play involving Marcus Thames running all over the field. Unfortunately the bullpen imploded under the eye of Lloyd McClendon who took over when Jim Leyland was ejected. McClendon let Willis throw 28 pitches and Bobby Seay 38 which would seem to indicate that both would be unavailable tonight.
Willis struggled with his control walking 2 (1 intentional) and throwing 15 balls versus 13 strikes.