Game 41: Tigers at Royals
PREGAME: Kenny rogers hopes to not be the latest pitcher to receive no run support and Gil Meche will look to extend the Tigers 16 inning scoreless streak. I wish I had something more encouraging to say.
DET @ KCR, Thursday, May 15, 2008 Game Preview – Baseball-Reference.com
Game Time 2:10
POSTGAME: Umm. Again, not a lot to say. I listened to most of this game and it sounded by Dan and Jim's call that some bad pitching was compounded by some bad luck. Once again stuff happened to the Tigers instead of the Tigers happening to another team. They managed some extra base hits later in the game, but when given a chance to actually climb back in they failed.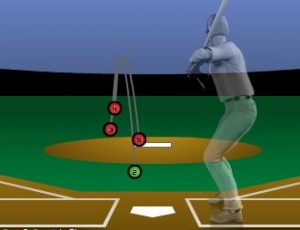 Kenny Rogers walked in a run which was the 8th time a Tigers pitcher has done that this year. Last year it happened a total of 9 times. What's disappointing is that looking at the strike zone (the graphic below is Granderson leading off the game, those strikes were all called), in this game it should have played to Kenny's strengths. Strikes were being called outside off the plate, but Rogers couldn't take advantage.
I'm just speechless.