About that 1-25 record…
It is quoted after nearly every game, with only the loss column frequently changing. Currently it is 1-25, with IT being the Tigers record in games in which they score 4 runs or less. Some people point to it as a sign of the pitching staff's futility while others question why the offense is scoring so little so often. Like many of the Tigers struggles this year, it can't be attributed to just one area.
We'll start by looking at some broader data. Below is data for the American League showing runs scored per game and the corresponding winning percentage so far in 2008.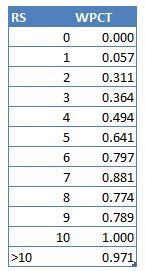 Not surprisingly it's hard to win your scoring fewer than 2 runs a game, and the odds increase dramatically with the 2nd and the 4th runs. Now let's look at what the Tigers have done.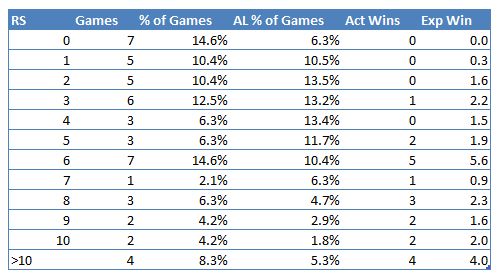 What you're seeing is how frequently the Tigers scored a certain amount of runs, how frequently it was done in the AL, how many games the Tigers won at each run point, and how many they would be expected to win given AL norms.
The thing with the 1-25 record is that the Tigers have scored fewer than 2 runs 12 times giving them 12 games with virtually no shot to win regardless of the pitching. And in those 4 run games where the team should have nearly a 50-50 shot of pulling out a W, the Tigers have only had 3 such games.
So with some normal pitching, the Tigers should have expected to win at most 3-4 more games. Chalk those up to the staff, but the bulk of the others fall squarely on the shoulders of the offense.