As has been widely documented at this point, Justin Verlander's velocity is down significantly. Either it is a systematic change in measurement mechanisms, or it is a real dip. Given the remarkable disparity and the fact it doesn't seem to be effecting other pitchers the same way, I'm inclined to believe it is real. The question is whether it is by design (slower pitches, more movement, more longevity is one theory), it is mechanical, or it is related to injury.
Verlander recently did a side session in which he was working on his arm slot saying that he had been throwing with a lower arm angle and was working on raising it. While we can't necessarily look at his arm angle with pitch f/x data we can look at an approximation of his release point.

The pitch f/x system picks up a pitch 50 feet from home plate. The graph below is a comparison of Verlander's last start of 2007 when he was regularly hitting 97-98mph and his start from April 12th when he was sitting substantially lower maxing out at 93.9mph. I chose these two games because I wanted data from different seasons and from the same ballpark. Both of these starts were in the Cell.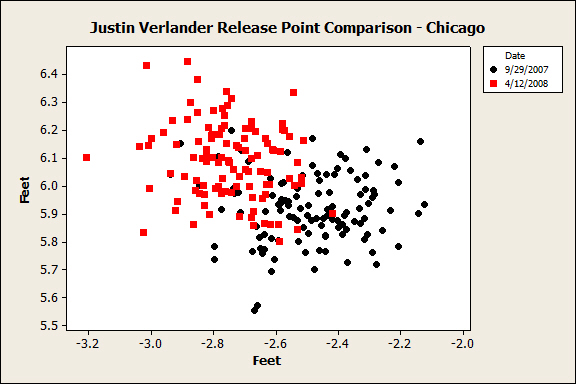 Yes it was a very cold day on April 12th which could have had an effect, but the velocity readings didn't differ significantly in his other starts.
This data shows Verlander releasing the ball higher in 08 than 07 and more towards the third base side. Now this is far from conclusive, but I do find it interesting. It's possible that the system was recalibrated from last year to this year. Or maybe the mound is higher. Or maybe Verlander is positioned more towards the third base side of the rubber.
Further investigation will be forthcoming, but this is what I could pull together quickly. We'll see if it has any effect on velocity. The Tigers don't seem too concerned with his fastball and they are more concerned with the command of it. And it sounds like the intent of the arm angle change was to address the tilt on the breaking pitch (we can check this with pitch f/x also). But my armchair speculation is that both Verlander's control problems and lack of break on the curve ball could have been the result of over throwing as he tried to hit those mid 90's radar gun readings.