So MLB.com integrated video highlights with their popular Gameday tracker this year. The thing is, the Tigers have been short on highlights this year. Today MLB.com decided to throw the Tigers a bone.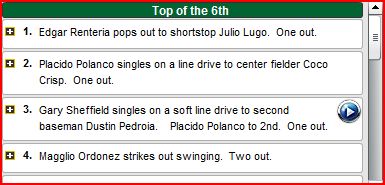 That little blue arrow denotes that you can see Gary Sheffield's end of the bat bloop that eluded a heavily shifted Dustin Pedroia. The result was that the Tigers got a runner all the way to third second who would later advance to 3rd after a Miguel Cabrera walk. That of course and sadly would be the farthest that the Tiger would advance a runner on this day.
They later showed Pudge flying out deep to center field in the 9th inning, but I think that was more of a Coco Crisp highlight. Given the Tigers recent offense though it's debatable.