Louisville 5 Toledo 0
Curtis Granderson doubled and singled, and like the night before in Grand Rapids that was it for the highlights. Virgil Vasquez allowed 5 runs on 9 hits and 3 walks with only 1 K in 5.1 innings. Cassey Fossum went 2.2 innings allowing one hit while fanning 3.


Jason Beck was in Toledo and said that there is still some concern about Granderson having to make a throw which he hasn't yet on his assignment. Also, Francisco Cruceta is likely to join the Hens this week and Mike Hollimon isn't too far away. Plus our friend Roger DeWitt found Jordan Tata throwing off a mound in Lakeland meaning his return should be close as well.

Erie 2 Alttona 3
Freddy Guzman tripled and singled. Deik Scram doubled and walked. Dan Christensen allowed 2 runs on 4 hits and 2 k's with one strike out over 6.2 innings. Casey Fien took the loss allowing a homer and 2 other hits in 1.1 innings of work.

Lakeland 0 Tampa 3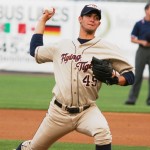 Rick Porcello went 6 innings allowing 2 runs on 4 hits, a walk, and 4 strike outs. Lakeland only managed 3 hits. LFT Blog notes an interesting subplot and wonders whether Porcello was asked to throw at a hitter as retaliation for the hitter breaking up a no hitter with a bunt the night before.

Burlington 7 West Michigan 8
Ronnie Bourquin homered and singled. Roger Tomas and Adrian Cassanova each had 3 hits and a walk. Lauren Gagnier allowed 6 runs in 5.1 innings with 3 walks and 5 K's. Rudy Darrow went 2 innings of relief fanning 3 and allowing 1 hit.