Tigers Minor League Wrap 4-15-08
Toledo 1 Lehigh Valley 4
Timo Perez was the offensive star with 2 hits and a walk. Jackson Melian hit a solo homer. Recently promoted Jon Connolly allowed 2 run over 5 innings on 2 walks and 1 strikeout.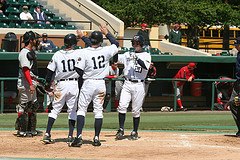 Bowie 5 Erie 6
Jeff Frazier had 2 hits and a walk. Freddy Guzman added two hits and is sitting at .345. Josh Rainwater took the loss with 3 runs allowed in 4.1 innings. Casey Fien pitched 2 scoress innings.

Sarasota 3 Lakeland 17
Cale Iorg and Scott Sizemore each had 2 hits, each homered, and each had 4 RBI. Brandon Timm, Michael Bertram, and Jeff Kunkel all had 3 hits. Jonah Nickerson allowed 2 runs over 5 innings fanning 4 and walking none.

West Michigan 5 Peoria 1
Joseph Tucker and Jordan Newton each had 3 hits and Audy Ciriaco added 2. Alfredo Figaro pitched 7 innings allowing only 1 unearned run on 4 hits while fanning 8 and walking 4.