Reports: Tigers sign Cabrera to $153 million contract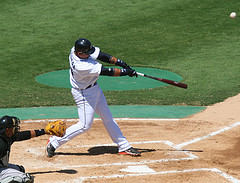 credit Roger DeWitt
ESPN.com is reporting that Miguel Cabrera and the Tigers have agreed to an 8 year contract totaling $153.3 million. The deal is to be announced Monday pending a physical.
This is of course the biggest deal in franchise history, and it's befitting a franchise caliber player. Locking Cabrera up long term was no doubt a priority from the moment THE TRADE was completed back in early December.
We'll have to wait for the details of course, but I'd assume that this contract supplants the one year deal signed in January. Meaning that Cabrera will be donning the English D through 2015. So the Tigers lock up one of the premier hitters in the game for his age 25-32 seasons. What's not to like?
If it is in fact replacing the existing deal, or essentially a 7 year extension on the $11.3 million he's going to make this year, then it is $20 million per year from 2009 on. The chances of him reaching $20 million in 2009, the last year of arbitration, are small. Cabrera would probably be in line for something around $14-15 million next year. But even if they are paying more in '09 it still looks to be a solid deal in aggregate.
Baseball Prospectus' PECOTA system only projects out 7 years, but for each of those years Cabrera projects to be a $20 million a year player according to the BP metric MORP. Tom Tango's salary chart reveals that an 8 year – $151 million contract implies 5 wins above replacement. BP sees Cabrera as more than 5.3 wins above replacement through 2014. I don't trust BP's defensive metrics though and would probably discount their WARP total accordingly.
Also, the BP method of WARP differs from the method that Tango employs. His methods can be found in the comments here. I tried to follow them (could have botched them as well) and pegged Cabrera between 4.5 to 5 wins above replacement. So depending on the methodology the numbers say the deal is either reasonable/slight overpay or quite fair.
The one thing that the pure WARP numbers don't extrapolate is the impact of having a player with extraordinary superstar abilities. The wins and losses are accounted for, but not the good will built with the fan base for securing a player of that magnitude. Or the potential revenue associated with having a hall of fame quality hitter through the prime of his career.
Committing that many years and dollars to any player is a little scary (look what happened to Juan Gonzalez). But if you're going to do it, then do it with a 25 year old player who already has 4 years of offensive excellence under his belt.