Mike Hollimon lacks luck of the Irish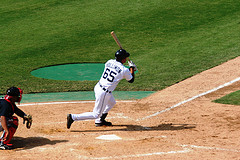 credit Roger DeWitt
Mike Hollimon, the official middle-infield-Triple A-ready-for-the-call-later-this-season player of DTW, dove and dislocated his shoulder. Jason Beck says an MRI will be forthcoming tomorrow but early returns aren't positive and Hollimon could be done for the season.
I recently trumpeted Hollimon as a player to watch in the Baseball Digest Daily round table. I argued for him as the utility infielder. While I'd since given up that hope in the midst of Leyland announcing he'd figured out all but one spot on his roster, I'm still disappointed for him.
He may have suffered an injury that could substantially hinder his pro prospects. For Hollimon, who is already 25, a missed year of development is a major set back.
Here's hoping it's not as bad as it seems.
In a coincidental posting, Baseball Prospectus ran their team health report for the Tigers. The position players rate favorably but the rotation is full of questions. Kind of a running theme huh?