He looks good, he's happy, and other reports from spring training
Imagine if the players turned the tables on the beat writers during spring training and wrote stories about the beat writers.
"The official reporting date wasn't until the 14th, but he was down here a couple weeks ago getting ready."
"You can tell he was really working out this offseason. His vocabulary has grown as much as his forearms. Both are the product of intensive typing."
"He's excited to be down here. You can hear it in his voice when he talks about how excited he is to get to work."
"As the new guy on the beat, he's still trying to get a feel for his fellow media members, but he seems to be fitting in great."
"As a 6 year veteran, and the only remaining beat writer from that awful 2003 team, it's clear that he's a leader in and out of the locker room and the other guys look to him for cues."
"He's excited to try out the new language he was working on over the winter. By adding Spanish to his repertoire he should really have an advantage over the competition. If he can gain confidence in it, it could be what he needs to push him from beat writer to elite columnist."
I kid of course, especially on a day when there is so much news coming out of camp.

Guillen won't play first short
Roster construction by Bill won't happen. Carlos Guillen won't be used as a back-up shortstop. Now that he's moved he's not going back. The statement is reminiscent of when Leyland said that Inge wasn't a catcher anymore when Neifi Perez was named emergency catcher. Leyland did say Guillen would go to short in an emergency so it's not quite the same.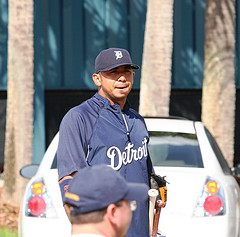 That just means I'll push for Mike Hollimon now to be the back-up middle infielder. Hollimon is a switch hitter, solid defensively, and coaches seem to love him. He also posted an .849 OPS at Erie. Granted he was old for the league and I wouldn't expect the same in the majors this year, but I think it's safe to say he could best Ramon Santiago offensively.
Leyland loves Guillen, finds Granderson handsome
Michael Bauman had a bevy of fun quotes from Jim Leyland today. Leyland was reflecting on what a treat it is to manage this team.
"Carlos Guillen is as fine a person, as fine a professional as I've ever been around. He is as good a man as I've been around. He's a team guy, is what he is."
and on Curtis Granderson…
"When you've got guys like Curtis Granderson, there isn't a manager alive who could screw them up. Nobody could mess him up. He's got it all. He's good looking, articulate, bright, hell of a player."
I saw Leyland speak this offseason and he talked about many of the same sentiments that he iterated (not the part about Grandy's looks of course) about how much this team means to him. Fun stuff to read.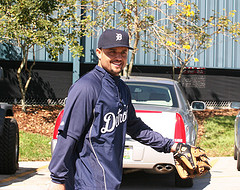 Polanco is perfect player, tour guide
Jason Beck has a nice profile of Placido Polanco. On a related note Beck blogged a story about Magglio Ordonez looking for a quick vacation and deciding to drop in on Polanco.