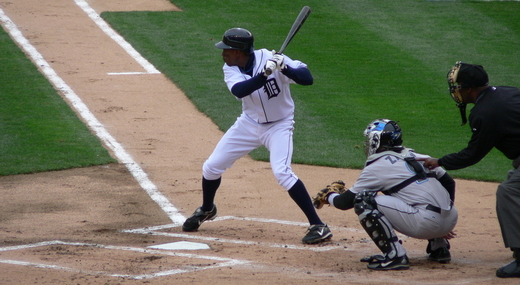 Curtis Granderson had a heck of a 2007. He made baseball history accumulating 20 doubles, triples, homers, and stolen bases and becoming one of only 5 players to ever accomplish the feat. He had what was rated in many circles the defensive play of the year when he reached over the left-center field wall to pull back a Wily Mo Pena homer. He was a television analyst for two networks during the post-season. When all his work was done he served as an MLB ambassador in South Africa. Now he's getting ready for the First Annual Curtis Granderson Celebrity Basketball Game to benefit the Grand Kids Foundation. Given his whirlwind tour I'm very appreciative that Granderson would take the time for an email interview with the Detroit Tigers Weblog.
Detroit Tigers Weblog: First off, congratulations on a tremendous, MVP-candidate type season. Do you have any personal goals for the 2008 season? The quad-25 perhaps?
Curtis Granderson: Thanks. For me personally, I never really have statistical goals before any season, because they can be looked at in so many different ways. I like to focus on improvements and percentages: hit lefties better, increase my walk to strike-out ratios, and fewer errors in the outfield. I also like goals such as: compete everyday, HAVE FUN!!!, KEEP IT FUN!!!, and continue to learn everyday.
DTW: Going into last year people were concerned about your strikeouts, and this year the concern is about your struggles against left handers. Is this something that is a point of emphasis for you and Lloyd McClendon?
CG: Every year there is always something to improve on from the previous year. Last year like you said were the strikeouts. McClendon came into Spring Training and started working on a few things to try and cut that number down. I'm sure there will also be a great deal of work done this Spring to help get back to hitting lefties like I have in the past.
DTW: Have you had any talks with the club about a long term contract? Is comitting to Detroit for multiple seasons something you'd be interested in?
CG: I would love to have a long term deal with the Tigers, but with my situation of only having just over two years of MLB service time, the Tigers are in a position where they choose what happens. There are a lot guys and situations that the Tigers are handling and will handle before they get to my situation, so in the meantime all I can do is continue to prepare and get ready for the 08′ season.
DTW: What is the toughest part of playing center field at Comerica Park? Is it the sheer size, the wind, the glare during day games? Where do you rank it among the toughest outfields to defend?
CG: I would rank it the toughest field in the American League by far. The depth makes it difficult for positioning and also my range. The wind is only an issue because the wind at field level is usually opposite of the wind above the stadium. The day games, we still haven't figured out why it's so hard to see there. At first in 04′ we thought it was because of the number tags on the empty seats that provided the glare. Well in 06′ and 07′ we have sell-out after sell-out and it was still just as hard to see. I thought it was just me, until I see opposing centerfielders come in and have the same struggles I have out there.
DTW: You're remarkably "accessible" for a big league star due to you blog, your MySpace page, agreeing to interviews with bloggers, etc. Why is this important to you? Will the blog be back in 2008?
CG: The blog was a way to provide an insight to the daily routine of a MLB player, to show that it's not all fun and baseball everyday. I enjoyed doing it, and I was really surprised by the response from not only Tiger fans, but fans throughout baseball. I liked doing it because it's busy work, similar to college homework, and it gave me something else to do to get my mind off baseball (ex, talking about dinner, movie, music, shopping, etc…). I'm still not sure what will happen next year with the Blog. It was a lot of fun, but doing it three times a week, my ideas and topics were starting to run out as the season started to wrap up. So I'll have to figure out the best way to keep it fresh, but not too long in between each blog, and also keep it short, which is another reason why I liked doing it.
DTW: You got a taste of broadcasting during the postseason, is that something you'd like to pursue as a post-baseball career?
CG: The broadcasting thing was fun, exciting and interesting. I enjoyed doing it from TBS to ESPN. Both were different, but were a lot of fun and huge learning experiences. It would be something I would consider at the end of my career, but hopefully that is not for a long time to come.
DTW: Tell me about the charity hoops game coming up and the Grand Kids Foundation. What should fans expect and what is the Grand Kids Foundation trying to accomplish in general?
CG: The game will be an event for the entire family, with baseball, football, basketball, boxing, UFC, etc… Fans will all have their respective sports represented during this event. The game will be fun and the fans will also get to see some of us Tigers (Nate [Robertson], Marcus [Thames], Dontrelle [Willis], and myself) compete in a little shoot out as well. The event is to raise money for Detroit and Flint Public schools, and help improve and show the importance of education.
DTW: One last question, and this comes from my son, what will your at-bat music be this season?
CG: I'm still trying to figure that one out, as some new songs that have recently come out I really like, but by the time the season starts they will be old. So I wait until the Spring hits to come out and decide, or just mix of my old school hits again like i did last year.
Thanks so much to Curtis for taking the time for the interview. If you're interested in attending the basketball game it will take place at Avondale High School on January 26th. For more details, including a listing of who will be participating and information on how to buy tickets check out the Grand Kids Foundation website. If you're interested in supporting the cause but can't make it to the game you can still donate via Paypal or credit card from that same page.