Robertson extended for 3 years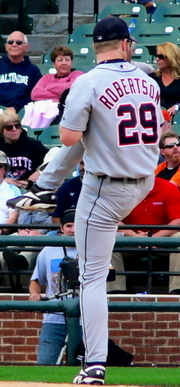 The Tigers have signed Nate Robertson to a 3 year deal for $21.25 million. The Freep has the break down on the dollars.
Robertson will earn $4.25 million this year, $7 million in 2009 and $10 million in 2010. He would earn $11 million in the third year of the deal if he throws a combined 400 innings in 2008 and 2009 or 200 innings in 2009.
I'll have more later.
Notes from the call
No Dombrowski on the call. He's on his way to the owners meetings. John Westhoff spoke for the front office
Contract negotiations took place over the last 2 to 3 weeks
Club is happy that 4 of the 5 pitchers are under contract/control for the next 3 years and think it is important.
Nate's excited to be on the best team he's ever been part of, especially considering where they came from[2003].
Robertson scaled back on his off-season throwing to try and be fresher during the season.
It still hasn't really hit him, a boy from a small town in Kansas, that he's playing baseball and has a deal like this. He said it's a humbling experience.
Apparently Nate has a reputation of being frugal, and when questioned it brought about much laughter. He retorted that he didn't need a fancy car to feel good about himself.
It's later
To me this is yet another deal in which the Tigers agree to a deal that seems to be very fair. Robertson is probably a slightly below average pitcher that accumulates at or around 200 innings per year. Not outstanding to be sure, but those types of guys are far from common as well.
The Tigers are buying out Robertson's last two years or arbitration eligibility and his first year of free agency. The way the contract shakes out it looks like the Robertson is giving the team a break of about $1 million dollars this year, but it looks like he'll get it back in the 3rd year of the contract. Inflation will likely make the $10 million look reasonable, but Robertson will be 3 years older at that point and probably won't be as effective while being more of an injury risk.

Sabernomics (h/t MLBTR) thinks the Tigers didn't receive enough of a discount to make the 3 year commitment. Normally I'd rebut with cost certainty, but I think that's less of an issue with Robertson than many players. Nate has been quite consistent season to season with a K/BB ratio of 1.88, 2.04, 1.89 the last 3 years and a similarly consistent home run rate. I don't see a breakout year happening for Nate in his age 30 season so it's not like his contract would accelerate if the Tigers waited a year.
Still, there is a case to be made for making this deal. The Tigers aren't likely to match Robertson's production at a cheaper rate over at least the next 2 years. There isn't anything close to a sure thing in the minors with the departures of Andrew Miller and Jair Jurrjens. Yorman Bazardo, Jordan Tata, and Virgil Vasquez could step in, but the Tigers don't want to be dealing with "coulds" and "replacement levels" given what they've invested into this team. With a payroll that is already over $120 million this year which will top $135 before all is said and done, and $95 million already committed in 2009 (assuming Renteria's option is picked up) a proven free agent pitcher is out of the question. Given the farm system a trade isn't likely to bring back a better return either.
Then there is the fact that the organization has shown a loyalty to its players and the front office has established a pretty solid reputation. For a team that lost 119 games five years ago, the front office has cultivated a remarkable turn around in player's perceptions of the team. While loyalty can lead to bad business decisions for the deal at hand, there could be longer term benefits.
More reactions