The Dontrelle Files
We know Dontrelle Willis has the big leg kick and the bigger smile, but let's take a graphical and statistical look at the Tigers newest starter.
The pitch selection
Using Josh Kalk's pitch f/x tool we can look at the mix of pitches that Willis throws and the success he has with each pitch in his repertoire.
Willis has 2 fastballs, one with more sink and vertical movement – presumably a 2 seamer – that he throws most frequently. He also appears to have a 4 seam fastball which he doesn't throw as often. He has an 86 MPH change up and an 80 MPH slider that makes it tough for lefties.

The 2007 struggles
Willis is coming off his roughest season. A season in which he was banged up but tried to pitch though it. The result was an ERA in excess of 5. What changed for Willis? It came down to walks and home runs.
Willis walked a career high 3.81 per nine innings pushing his K/BB rate down below 2.0 for the second consecutive season. However, it was all walks that attributed to the ratio as Willis has maintained a remarkably consistent strikeout rate throughout his career.
The other problem for Willis was a new career high in home runs. Never before had he given up more than 21 long balls in a season and last year he surrendered 29.
Willis had theh Marlins defense behind him which was generally regarded as awful. But when Willis was pitching Florida converted 14 more plays than expected to outs. Four of those plays were ones that Dontrelle made himself. But he didn't suffer from bad luck necessarily and his fielding independent ERA was right in line with his actual ERA.
The homers
Both Dolphins Stadium and Comerica Park are pretty equal in terms of allowing home runs. Last year 14 of the 29 dingers that Willis allowed came at home, and surprisingly all 29 were hit by right handers.
With such a disparity you can imagine how many homers went to left, and it stands to reason that even without Willis changing anything, he may have better results next year with Comerica's big left and centerfields.
The graph below was cobbled together from Hit Tracker Online. The blue dots are the home runs that Willis allowed last year, with Comerica parks's dimensions super imposed on top. (also courtesy of Hit tracker online)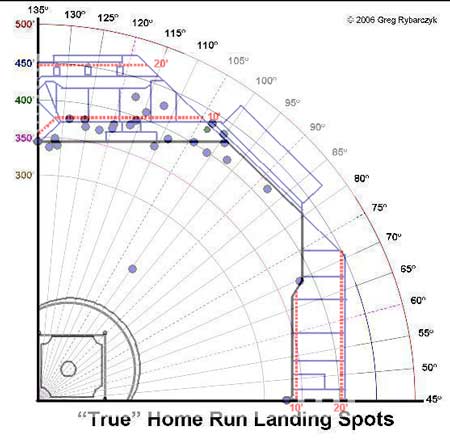 Of course Willis won't be pitching exclusively at Comerica, but there are a fair number that would fall within the fences, and with Jacque Jones and Curtis Granderson manning the outfield some may be harmless outs.
Projections
Many of the projections for 2008 are in with Marcels, Chone, ZiPS, and Bill James now available.
The key elements are detailed in the table below:
| | | | | | |
| --- | --- | --- | --- | --- | --- |
| Proj | IP | ERA | K/9 | BB/9 | HR/9 |
| Bill James | 209 | 4.22 | 6.59 | 3.03 | 0.86 |
| Chone | 211 | 4.56 | 6.39 | 3.28 | 0.91 |
| Marcel | 185 | 4.4 | 6.61 | 3.26 | 0.97 |
| ZiPS | 224 | 4.34 | 6.51 | 3.09 | 0.92 |
| Consenus | 207.25 | 4.38 | 6.52 | 3.19 | 0.92 |
The projection systems are remarkably consistent in their expectations for Willis having a bounce back season. The consistency in his strike out rate isn't surprising given how steady it has been throughout his career, but the consistency in the other numbers is a surprise.
In all, the projections make me feel better about Dontrelle's prospects than I did when looking at his ERA from last year. Granted, he'll still have to deal with changing to the stronger league, but he still has a pretty good chance to be an above average 200 inning pitcher and those are pretty valuable.