Chris Shelton era ends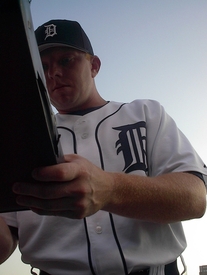 Chris Shelton is now a Texas Ranger. The Tigers continued their active winter by dealing Shelton, who was DFA'd last week, for centerfielder Freddy Guzman.
Guzman is a burner who led the PCL with 56 stolen bases last year. He's about to turn 27 and he's only amassed 37 big league games in his career, so take that for what it's worth. He hits for no power, but has some on base skills with a .360 OBP on a .278 batting average in his minor league career.
As for Big Red, here's hoping the change of scenery will benefit him. If he can recapture that opposite field power, he should do quite well with the Arlington jet stream pushing balls out to right.
Guzman is on the 40 man roster, but the Tigers have some wiggle room following "The Trade" because they had freed up 2 spots.