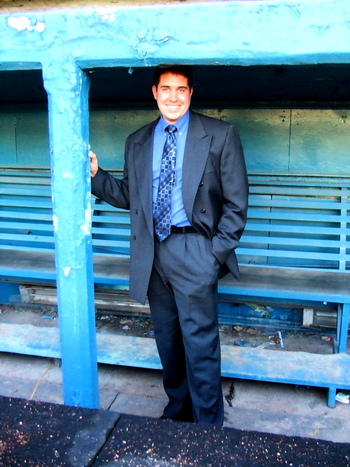 Over the last couple weeks fans who purchased items in the Tiger Stadium auction were able to head down to the Michigan and Trumbull and pick up their items. There were some items that weren't bid on, or discovered after the auction ended that were also available so I went to check it out. The items available didn't tempt me, but the field was open and that was too much to resist.
I wandered out onto the centerfield grass and tried to soak the stadium in one last time. She wasn't the same at all as the evening in 1999 when the Tigers brought all the greats back to roam the field one last time. We've all seen the pictures of paint peeling, rust, and other evidence of decay. Many of the seats had already been removed.
Still, I couldn't help but get chills. I'd never been on the field at Tiger Stadium. Sure it was a mix of weeds and grass now, with the weeds winning, but it was still the same plot that so many baseball greats had roamed. I looked up into the stands to see what they saw while they were playing.
I looked up into the overhang in right field, that was warm with the glow of the setting sun and remembered right where I stood for the last game.
But the biggest thrill came when I was about to leave, and Dan, the guy who oversaw the auction came out and offered to take my picture in the home dugout. So I wandered across the infield and crossed over the warning track which is basically all mud at this point. I got to duck my head as I crept into the dugout and peered down the dark tunnel to the locker rooms. It was simply awesome.
I never knew if I'd want to see the stadium again. My last memories were so perfect. And yet I'm glad I went, that one more goose bump inducing time. Seeing it decaying made it a little easier for me to prepare for the wrecking ball.