Coming off a 3rd straight frustrating loss, Jim Leyland announced that Ryan Raburn would be the starter over a struggling Brandon Inge. With Inge's recent play, and Craig Monroe's departure, Brandon has taken over the role of the Tiger that people love to hate. And with statements like the following, he isn't exactly endearing himself to the fanbase.
"I can't explain it," said Inge, batting .242 with 12 home runs and 56 RBIs. "I'm getting pitched like I'm Babe Ruth. Everything is on the corner. I haven't seen a ball in the middle of the plate for a week."
Inge is the Tiger that spurs the most polarized debate. Inge bashers point to his high error total and low batting average and advocate for more offense from a power position. Inge defenders point to his exceptional range, his power, and his role as a number 9 hitter. For the first time since Pudge Rodriguez assumed regular catching duties, it is getting harder to find people in Inge's camp.
Myself, I'm somewhere in the middle. I was a proponent of his contract. I looked at his 265/327/443 line in 2004-2006 and viewed it as a new level of performance. It was (and still is) a far cry from his career numbers up to that point, a meager 198/254/314. line. And coming off a season in 2006 where the the average AL third sacker hit 269/338/442, he was certainly close to average for the position offensively.
What made the contract solid to me is that Inge's defense is top shelf. Yes he has the errors, but he also rated at or near the top in other more advanced metrics like the probabilistic model of range and John Dewan's +/ system (both of which account for his errors, and he still ranked high). Three different systems placed his defensive value in the neighborhood of 20 runs, which combined with near average offense makes for an above average player.
Because those 2004-2006 seasons coincided with his age 27-29 peak seasons, I didn't expect Inge to improve on those numbers. But given his athleticism and body type I also anticipated that he would be able to maintain similar numbers in the near future without a dramatic dropoff. The fact that he had OPS+'s of 108, 100, and 99 in those years mean he was reasonably consistent over that time and it wasn't a single peak year spiking the numbers.
With all that said, 2007 has been a major disappointment – or at least parts of it. Inge's season can really be broken down into 3 parts, 2 of which were largely forgettable. He struggled mightily in April, was very productive in May and June, and has looked more like 2003 Inge since the beginning of July.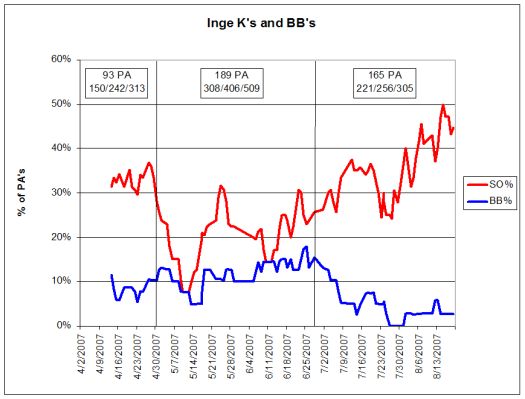 Early in the year when Inge was struggling, he was at least drawing walks and hitting for some power with a .163 ISO. He was fanning quite a bit, but that's part of what you get with Inge. He also was probably battling some bad luck as his batting average on balls in play was very low.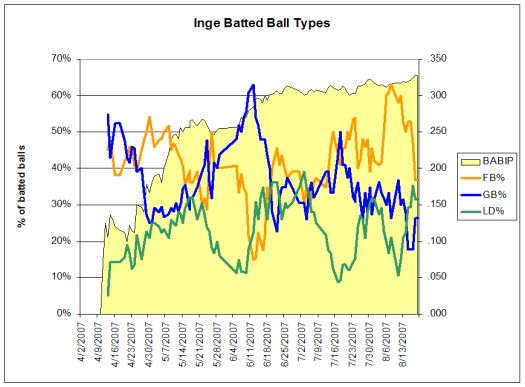 In the second act Brandon continued to draw walks a pretty good clip, and he really cut down in his strikeouts. For a 2 month stretch he was a very good player, and a big part of the Tigers offensive surge. His season line on June 25th was 259/356/453 which is quite solid. And then July happened.
The first thing that happened is Inge stopped taking walks. That was right about the same time his line drive percentage plummeted and shortly there after he started to strikeout at a ridiculous rate. A trend that is still underway and manifested itself this past weekend in New York. He's walked 5 times since July 1st and his on base percentage has plummeted with it. He has 9 extra base hits over that timespan and his slugging percentage is now south of .400.
What is odd is that he's actually maintained his batting average on balls in play, and as of late the line drive rate is on the way back up. In fact for the season his line drive rate is at 22.4% which is the highest mark of his career, and vastly superior to his 14% last year. And yet his numbers are way down because he can't put the ball in play.
What about his fielding? I see mixed results. Despite the error this weekend, his fielding percentage is right in line with his career numbers. And if you look at revised zone rating he is second only to Mike Lowell, and he's made more plays on ball outside of his zone than third baseman except for Adrian Beltre. But his impact defensively isn't what it was last year, and I attribute that in large part to Kenny Rogers absence. Rogers induced a ton of grounders, and as a lefty the bulk went in Inge's direction.
As someone who has been an Inge defender in the past I did it based on near average offensive production, combined with stellar defense. Now I'm looking at a player who is far below average at the dish and merely good in the field. I'll still defend Inge to those who say he is a garbage player, but I can't defend his production where it is at right now. When it comes to the benching, I think there is probably a little too much being made of it. I could be wrong, but I don't see it as an extended time period. The Tigers just made two moves to bolster the defense in bringing up Cameron Maybin (I'm not saying this one is working, but it was part of the intention) and Ramon Santiago and if that's the emphasis then swapping Ryan Raburn and Brandon Inge doesn't make a lot of sense. If there is a platoon it may be based on who the Tigers are starting. If it's Miller or Robertson I'd look for Inge, but the right handed guns I'd look for Raburn.
And back to Inge's original quote about being pitched to like Babe Ruth…Maybe it's worth pointing out that Ruth walked over 2000 times in his career. I'm just sayin…
For Inge data see: