PREGAME: The Tigers look to stave off the sweep and they'll have their hands full with Johan Santana.
He'll be opposed by Mike Maroth. Maroth has struggled with consistency this year, and couldn't make it the 5 innings to qualify for the win last week in LA.
Maroth told Mario Impemba that he's been struggling with his release point this year. Fortunately we can take a look at this. Maroth has 2 starts in enhanced GameDay parks.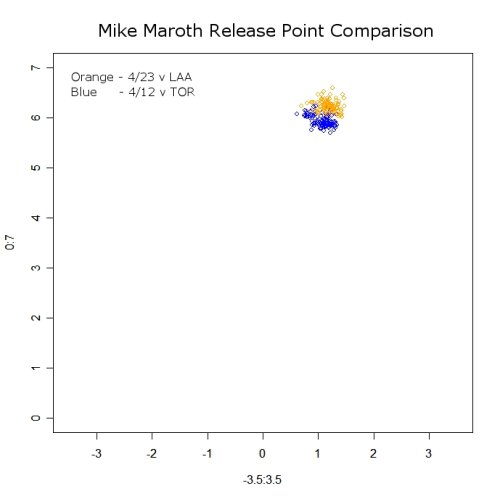 He seems to have a almost a foot of variability laterally, and it seemed to be more pronounced in the Angels game.
Game Time 1:05pm

POSTGAME: Today was pretty much the antithesis of yesterday's effort. Win or lose, the Tigers played a much more complete game today. While Johan wasn't Freakin' Johan today, the Tigers played a part in that. They forced 114 pitches in only 6 innings, drawing 3 walks. And it's not that Santana was wild (80 strikes vs. 34 balls), but the Tigers managed to hang around in at-bats long enough for something to happen. While they didn't break through for many runs, they had Santana pitching from the stretch the whole game.
Individually, Magglio Ordonez is as locked in as it gets. And Brandon Inge at least got a one day reprieve from his slump reaching base every time and of course knocking the walk-off homer. Hopefully it's the beginning of something rather than a blip. It's always nice to see a struggling player be the hero.
Mike Maroth pitched his best game of the year, and with only 1 walk, seemed to regain some of his control.
The bullpen did their job, although Joel Zumaya did allow 2 walks and a deep fly. At least no runs crossed the plate, and Zumaya retired some tough hitters. I still think there is something more than a confidence problem, but I'll take the positive results.
And as a final note, Placido Polanco was 6 for 6 in making contact on swings today pushing the streak to 105. (ed waffle note: My numbers are 3 pitches off of the numbers at Baseball Reference for the pitches Polanco has seen. One of those pitches was a strike. So this isn't "official" but I'm working to clarify.)