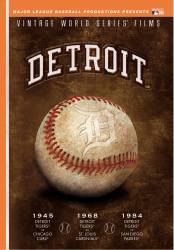 A & E television has been building quite the library of baseball DVDs over the last couple years. Looking to continue this trend and capitalize on the resurgence of the Detroit Tigers, they recently released a DVD featuring footage from the Tigers 3 post WWII World Series victories.
Now none of the content is actually "new." This isn't a comphrehensive look at the Tigers World Series victories. What it is is a compilation of the World Series specials that are produced each year. However, good luck trying to find them anywhere else, and now they are all available on on DVD.

1984
This is the one that you are probably most likely to have seen. Do you remember back when there used to be rain delays, and the alternate programming was those films looking back at World Series from the late 70's and early 80's? That's what you get commemorating the Bless You Boys of 1984. It is narrated by Mel Allen and runs about 35 minutes in length.
For someone who came of age during this era, this was probably my favorite of the 3 segments. Not just for the This Week in Baseball feel of it, but because this was my team. Seeing Whitaker reaching base and scoring in the first inning of 4 of the 5 games, Trammell and Gibson's homers, Milt Wilcox's double bounce, Sparky's "He don't wanna walk you." It's all good.
The bulk of the video quality is pretty good considering the source. But there were spots where the video and audio jumps.
1968
The 1968 video runs about 42 minutes and is narrated by another broadcasting legend – Curt Gowdy. While I've heard much about the 68 World Series, and new the contributions of the key players like Lolich, and Gibson, and Horton, and Brock, I've seen very little actual footage. Outside of Curt Flood slipping in center (we've all seen that all too recently), Lou Brock not sliding at home, and Lolich jumping into Freehan's arms, I don't think I'd seen other video.
For people my age who never got to see a Willie Horton home run or Al Kaline deliver a chest high bullet to Bill Freehan from right field, this is your chance.
1945
You know those old newsreels that would play before movies? That's pretty much what you're getting with the 1945 World Series. There is actually more footage than I would have expected. But it is basically a one camera set-up that is positioned in the upper deck along the right field line. To capture the action, some stock footage is showing of the player swinging up close, the crack of the bat is dropped in, and then the edit to the single camera shot that captures the action.
Still, you get to see Tiger luminaries such as Hank Greenberg, Prince Hal Newhouser, and Dizzy Trout in moving pictures. That in and of itself is pretty special.
This is the shortest of the 3 checking in at 26 minutes including a tribute to Keenesaw Mountain Landis who had recently passed away.
As I mentioned earlier, none of what you'll see on the DVD is technically new, but the bulk of it was new to me. Getting to see the legendary Tigers, as well as footage of Tiger Stadium (and Briggs Stadium) was a treat. This isn't a DVD I'm likely to watch over and over again, but it is something I"ll probably pull out each winter to help bridge those cold months of the offseason and definitely needs a place in my baseball library.
The DVD retails for $19.99 from A&E. If you order prior to March 27th, you'll get a bonus DVD featuring Modern Marvels: Baseball Parks for free. Plus, I've got some more good news. I have a couple copies of the DVD which I'll be giving away in a contest I'll be announcing in the next few days.