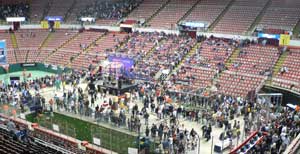 The 2007 edition of TigerFest will take place on January 20th from noon to 6:00pm. For the first time it will be held at Comerica Park. According to the release:
Most fan access areas within the event will be heated and covered – as the Tigers create the ultimate "summer time" experience in the middle of winter!
It will be interesting to see how this comes off. There are numerous areas under the stands where autograph tables could be set up as well as areas like the Tiger Club and Beer Hall. But it just seems like it could be pretty congested trying to get around.
The players who'll be attending won't be announced until January, but the event will feature the typical photo booths, seminars, tours, face painting, etc. One new item will be the opportunity to see the AL Championship Trophy.
Tickets go on sale at 10am Friday. Admission is $10 for adults and $5 for kids.