The DIBS Awards
Others have beat me to the post, but the Detroit Independent Baseball Scribes announced their Tiger awards today. The press release is below: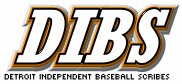 DETROIT, Mich. — The Detroit Independent Baseball Scribes announced Tuesday (Nov. 28) the winners of the 2006 DIBS Awards. Shortstop Carlos Guillen was named the DIBS Player of the Year as voted on by DIBS members. Pitcher Kenny Rogers earned pitcher of the year honors with fellow starter Justin Verlander being recognized for his breakout season. In addition to the three regular season award winners, DIBS named Rogers its Postseason Performer.

Guillen earned the top honors after hitting .320 with 41 doubles while cracking the century mark in runs. The Tiger shortstop earned 13 first place votes and two second place votes.

Rogers posted a 17-8 record with a paltry 3.84 ERA, but that was the least of his contributions. His ability to teach and work with the young pitching staff proved equally as valuable to the Tigers run to a Wild Card. Rogers put an exclamation point on his season with three postseason wins, all shutouts while striking out 19 batters in 23.0 innings.

Verlander went 17-9 and a 3.63 ERA in his rookie campaign, tying Rogers for team lead in wins. He finished seventh in the American League in wins and ERA while earning Major League Baseball's nod as Rookie of the Year.

Staff from 14 Tiger fan sites participated in the second annual award voting. Last year's winners included Placido Polanco (Player), Jeremy Bonderman(Pitcher) and Chris Shelton (Breakout).

DIBS (Detroit Independent Baseball Scribes) are a collection of independent websites that cover the Detroit Tigers. Formed by Brian Borawski, Bill Ferris and Ryan Sosin in 2005 with the idea of uniting a community of fans and writers, DIBS is focused on improving and promoting the quality sports coverage taking place on the internet.

Player of the Year
(FP votes)
1. Carlos Gullen (14)
2. Magglio Ordonez (0)
3. Kenny Rogers (1)

Pitcher of the Year
(FP votes)
1. Kenny Rogers (9)
2. Justin Verlander (6)
3. Joel Zumaya (1)

Breakout Player of the Year
(FP votes)
1. Justin Verlander (9)
2. Joel Zumaya (5)
3. Curtis Granderson (2)

Postseason Performer
(FP votes)
1. Kenny Rogers (11)
2. Carlos Guillen (0)
3. Sean Casey (1)
My votes
In case you're interested, I pretty much went with the crowd in terms of first place votes. I shook things up a little after that though. For player of the year I went Guillen-Granderson-Ordonez. Guillen was a slam dunk but after that it got tougher. For the bulk of the season Granderson posted a great OBP at the top of the order while playing sterling defense. He also had his share of big time clutch hits. As for Ordonez, his defense frustrated me at times as did his propensity for fouling the first pitch to first with men on base. Still, he produced. Maybe not at the level of his salary, but he was a huge part of the offense.
For pitcher of the year I went with Kenny Rogers followed by Jeremy Bonderman and Justin Verlander. This really could have gone to any of 5 guys and limiting it to 3 was tough. Rogers got the nod because 1. he was consistently good all year long and 2. I attribute some of the other pitchers success to his tutelage. Jeremy Bonderman had the best peripherals on the team and needs to be signed to a 4 year contract this offseason (this is a whole post I'm working on). Verlander was amazing as a rookie, or as any pitcher for that matter, and deserved Cy Young consideration until his innings ventured into unchartered territory. You could have easily included Nate Robertson and Joel Zumaya in this group as well.
Breakout player of the year was also tough, but I went with Joel Zumaya followed by Granderson and Verlander. While I've followed Joel for awhile, I didn't expect him to become so dominating so quickly. While I expected big things from Granderson and Verlander, both exceeded my expectations as well. Again, any of the 3 are deserving candidates and you could even say Marcus Thames deserves some accolades as well.
The postseason performer award was very clear cut in my mind with Kenny Rogers. Pine tar or not, the guy didn't allow a run in the postseason. Enough said.