My Camden Trip
I was hoping to come back from Baltimore and post a great game recap with photos of the Tigers shaking hands after another victory. However, it wasn't meant to be.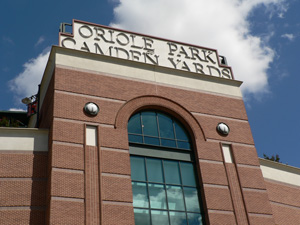 I did get to see the Free the Birds protest, which I must say was very well orchestrated. The intent was to show displeasure with Peter Angelos ownership of the franchise. A large contingent of disgruntled fans bought the cheapest tickets they could find and occupied a section in the upper deck in left field. For the next hour they cheered and chanted, mostly in support of the Orioles. Then at 5:08 (5 for Brooks and 8 for Cal) they left their seats, made their way down the ramps, and marched around the lower bowl before heading out. What I most liked was the passion that was shown before they left. That section was loud, and brought life to an otherwise silent and empty stadium.
As for the game, things started off great with Curtis leading off yet another game with an extra base hit. A homer by Magglio Ordonez off the top of the foul pole had the Detroit faithful, and there were many of us, cheering. Outside of a Curtis Granderson homer, that would be it for the Tigers scoring. They had a great chance with the bases loaded and nobody out in the 5th inning. Sean Casey hit a rocket to right field that looked like a double off the bat but it was snared by Nick Markakis. A pop out by Maggs and a ground out by Guillen pretty much sealed the Tigers fate.
For what it's worth, Orioles fans are rooting for the Tigers. I met fan after fan who said that they were pulling for us because their season was over early again. I assured them that I could relate, and told them to do their part and beat up on the Twins.
I was sitting in the front row along the 3rd base line, so I did snag some pictures.
It was nice to see Placido Polanco doing baseball stuff.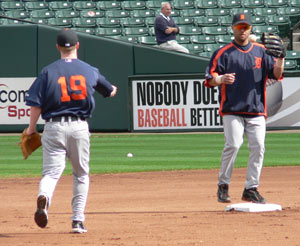 Jim Leyland staring at something, perhaps the majesty that is Neifi Perez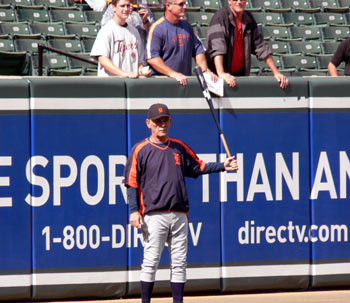 Here are the Free the Birds protestors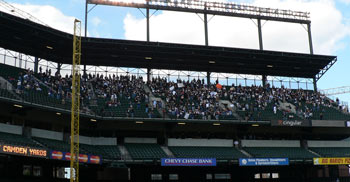 This was the pitch Curtis homered on, clicked a moment too soon: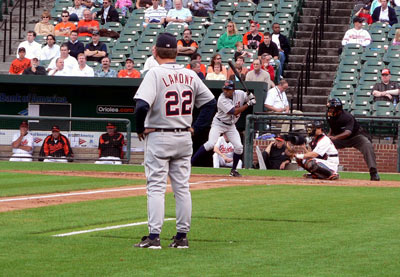 And this one is for Sam: