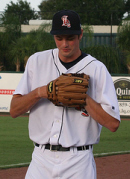 The Tigers added newly signed Andrew Miller to their 40 man roster. To make room they outrighted Mark Woodyard to Erie and Jack Hannahan to Toledo.
Why remove 2 players? I'm guessing it is to make room for Mike Maroth who is scheduled to make a rehab start for Toledo tonight and will be activated from the 60 day DL shortly. While Maroth is currently on the 40 man roster, players on the 60 day disabled list do not count against the total.
As for Woodyard, he has struggled this season, first at Toledo (7.93 ERA, 7 homers in 36 1/3 innings) and later for Erie (10.1 innings, 2 homers, 6.10 ERA).
Jack Hannahan of course had a short stint with the Tigers and is still sporting a .362 OBP while being able to play a variety of infield positions. Unfortunately his .372 slugging percentage will probably keep him from being more than a back-up.