Inge's Offense
Brandon Inge's offensive contributions the last few years have supplied me a ton of material. Iin the early years he was very, very bad. But then after a demotion to Toledo in 2003 he came back as a different hitter. He sustained that for 2 years into mid 2005 and had me declaring that he had transformed into an offensive threat. But then he swooned late last year, and this season he is once again a different hitter, an all or nothing masher.
Let's start by looking at the various stages of Inge's career, picked somewhat arbitrarily and summarized using the Day by Day Database:
		GS	AB	BA	OBA	Slug%	OPS	AB/HR	ISO	BB/K
pre 7/1/2003	148	677	.183	.242	.292	.534	61.5	.109	.241
7/1/03-7/1/05	232	869	.284	.350	.446	.796	36.2	.162	.489
> 7/1/05	163	598	.227	.281	.420	.701	23.9	.193	.313
While there was a definite shift in Inge's career with his 2003 demotion, another change seems to be in progress. From his peak, he seems to have given up 50 points of batting average, and some additional OBP in exchange for 30 additional points of ISO (isolated power: Slugging-Batting average). And while not a huge number of at-bats, the totals are probably indicative of more than just luck.
Taking a closer look at the Hardball Times stats, we see even less evidence that Inge's totals this year are some sort of random fluctuation. Inge's batting average on balls in play (BABIP) has dropped dramatically this year. In 2004 and 2005 his BABIP were .322 and .315 respectively. This year the number has plummeted to .247. That drop can be attributed to a drastic drop in the number of line drives Inge is hitting.
Line drives are the type of ball in play that is most highly correlated with hits. Inge's line drive percentage dropped from 17.9% last year to 10.8% this year. The drop in line drives has corresponded with an increase in fly balls. To Inge's benefit, he's been hitting the fly balls pretty well and the result is 17 home runs. However, his other offensive numbers born the brunt of the damage. In fact, his line drive percentage is lower than it has ever been in his career and is reminiscent of his pre-demotion 2003.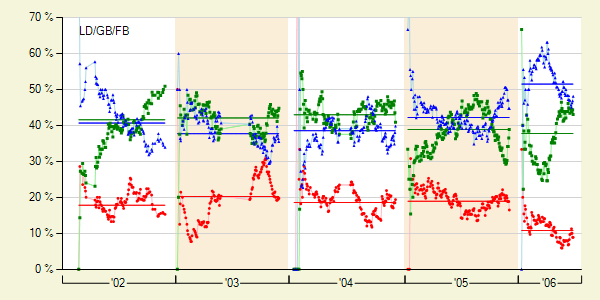 Now Inge has been a popular subject in trade rumors. This only makes sense as people look to the 8th and 9th spots in the lineup where the weaker hitters typically land. Now supported by an impressive home run total, Inge's OPS numbers look passable. However, Inge has gotten away from the type of hitting where he found the most success – driving the ball up the middle.
Last year when pressed into the lead-off spot Inge showed a knack for getting on base. He may have been playing a little over his head, but he was managing to work the count. Now as a full time third baseman, it seems as if Inge is trying to live up to the offensive expectations of a 3rd sacker with lots of power. Whereas the former increased his offensive value, the current metamorphosis seems to be sapping it.
Inge's offense is certainly acceptable from a number 9 hitter, and combined with his outstanding defense there isn't necessarily an easy upgrade available. However, I'd prefer to see Inge get back to the approach he had last year with gap power and a much better on base percentage. Even with his improvement in home runs, the dip in batting average leaves Inge with the same slugging percentage as last year while making more outs.