Jordan Tata Takes Jones spot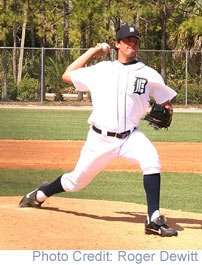 Jordan Tata who was set to open the season with Erie will be the beneficiary of Todd Jones's hamstring injury according to Danny Knobler. Tata had an excellent season for Lakeland last year (2.79 ERA, 3.27 K/BB ratio) as well as a solid spring.
The move surprises me. Tata hasn't pitched above A ball, and there are other pitchers (namely Mark Woodyard) who have a little more experience and would have been a decent fit. That said, Tata probably won't see that much action over what will hopefully only be a 2 week stint. Tata is also 25, so while he lacks experience at the higher levels of the minors, he isn't exactly a kid, and this doesn't feel like a "rush job" that could be detrimental to his development.
As for other roster implications like option years and service time, these will probably both be a non-factor. This is already an option year for Tata, so calling him up won't make a difference in terms of options. As for service time, if this is truly only a stint that will last a couple weeks, it is doubtful that it would advance his arbitration clock significantly.