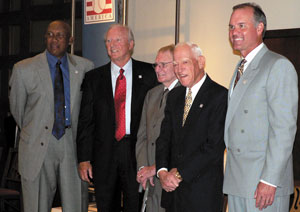 A traveling collection of Cooperstown artifacts titled Baseball As America has come to The Henry Ford. At a special preview today, media were able to view the Hall of Fame exhibit, as well as some Hall of Famers. Former Tigers Al Kaline, George Kell, and Sparky Anderson were joined by Fergie Jenkins and Ryne Sandberg to kick-off the special exhibit.
Detroit is the 10th stop for the exhibit which began touring in New York in 2002. The Baseball as America display features over 500 artifacts from the Baseball Hall of Fame and Museum in Cooperstown, New York. The Detroit stop was to be the final stop on the tour, but Jane Forbes Clark (chairman of the board of the hall) said that there may be 4 additional cities that will receive the exhibit.
The artifacts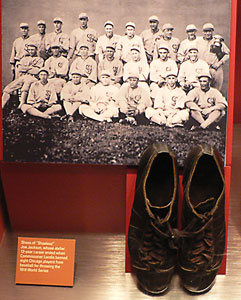 As for the exhibit itself, I think it is safe to say that it ranks as a must see for baseball fans. A couple of the highlights include:
Shoeless Joe Jackson's shoes (pictured on the right)
Hank Aaron and Jackie Robinson's jerseys
Eddie Gaedel's 1/8 uniform
Roger Maris's bat from #61, as well as bats from Mark McGwire and Sammy Sosa used down the stretch in 1998's home run chase
Assorted Babe Ruth memorbilia and bats
And that doesn't even include the Tiger specific artifacts. Among the Tiger exhibits the highlights include:
Al Kaline's 300th home run ball
Wahoo Sam Crawford's spikes
A ball from Alan Trammell and Lou Whitaker's record breaking 1915th game as teammates. The ball is signed by both Tram and Lou.
A microphone used by Ernie Harwell
Mickey Cochrane's catchers mask
I was hoping that they would have Lou Whitaker's hand made All Star game jersey, but I guess I'll have to travel to Cooperstown to see that. Even without the Whitaker jersey, the display is incredible.
The Hall of Famers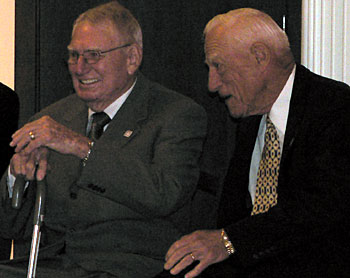 Now it takes a pretty special group of individuals to make a journey through 500 baseball artifacts not be the highlight of my day. As a long time fan, I was beside myself while I stood beside the likes of Sparky, George, and Al.
Sparky
Sparky was a bundle of energy as he literally sprung onto the stage. In typical Sparky form, he had everyone around him laughing. Unfortunately, he was such a good host I couldn't worm my way in well enough to hear much of the conversation. Even from a distance though, it is safe to say that engaging and dynamic would be adjectives worthy of Sparky. I thought I was going to finally have a shot to talk to Sparky, but just as my turn came up he was whisked over to speak with Fox Sports Net.
George Kell
I spent the bulk of my time hanging around George Kell. At least I can take comfort in the fact that I wasn't the only one. Kell was gracious and friendly, and quite frankly I would have been content to listen to him talk about whatever he wanted. After hearing his voice, it took me right back to my childhood and it seemed that at any minute he would break out "and they're gonna wave him in!"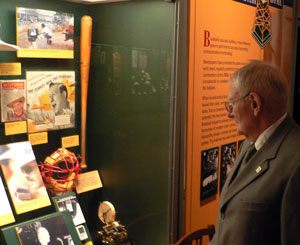 Having George Kell stand in front of a display about baseball broadcasting and describe the artifacts and the announcers they belonged to was a surreal experience to say the least. My recorder didn't pick up much, but some of Kell's comments included:
He spends an hour and a half a day answering fan mail, and he loves it. According to Kell, what else is a 83 year old man going to do?
He feels blessed to be included in the Hall of Fame, and he feels fortunate to get in when he did. He acknowledges how much tougher it is to get enshrined now due to the sheer number of players as opposed to his playing days
Kell was uncomfortable talking about Barry Bonds, because he doesn't know Bonds. He did say that, "I feel sorry for him, I feel sorry for the game."
Kell also spoke on how his and Ernie Harwell's broadcasting careers are intertwined. Harwell invited Kell into the booth when Kell was injured with the Orioles and that served as George's introduction to broacasting. Then, after Kell had been hired to broadcast with the Tigers, and the need arose for a new play-by-play man, Kell recommended Ernie for the position.
Al Kaline
With Kaline, like Sparky I had waited my turn only to lose out to Fox Sports again. Like Kell he was reluctant to pass judgement on Barry Bonds. He also mentioned that he was instrumental in bringing Alan Trammell in as manager in 2002.
I did manage to get in one question with Kaline. I asked him what him about how special induction weekend is each year:
It's great to go back to Cooperstown and see former players who are in the Hall of Fame, and help honor the guys that are going in now and their families.

One of the reasons I like going back is because you never know when it is going to be the last time you see some of these people, like Kirby Puckett. I always have great memories of Kirby in Cooperstown. We used to go downstairs to the lounge, and he'd grab a microphone and start singing, and we'd all start singing along with him. He was a great jolly guy to be around, and he loved the game of baseball.

It's always a great honor to go back.
For a fan like myself, it was a tremendous experience to be standing amongst Hall of Fame artifacts and Hall of Famers. While George, Sparky, and Al have left, the display hasn't. It opens to the public on March 11th and will remain open until September 5th. There are a number of special events, including giveaways and autograph days. The exhibit is included in the price of museum admission.