Keeping Score
A couple of months ago when I was going through a box of stuff from my parents house, I came across four sheets of paper. They had yellowed a little bit, and the pencil marks had faded, but they still told their story. These sheets of paper were where I kept score for the 1984 World Series. It's great looking back and seeing the old names, and my little kid writing, but that's not what makes them so special.
You see, in 1984 I was all of ten years old, and of course the World Series takes place in October on school nights. My parents, while fully aware of my love for the Tigers, were also quite responsible so there was no way I was going to be allowed to stay up for those games. Now that didn't stop me from writing down the lineups and keeping score for the first few innings. I was actually one of those "who are keeping score at home." Below is an image from Game 2 (click for a larger image).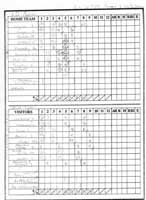 Now if you look closely you can see that in the bottom of the 4th inning, the handwriting went from my scribbles to something more legible. My Dad picked up the scoresheet each night after I went to bed so that when I woke up first thing in the morning I could know exactly what happened. In the process, the two of us together created a document that symbolizes our love for baseball and my Dad's love of me.
My love for baseball came from my Dad, and it was always a common ground. No matter how busy he was at work, he always made it to my baseball games where he would be coaching first base. I could also count on him giving me a hard time whenever my favorite player, Lou Whitaker, made an error. Fortunately that hardly ever happened.
One year we had Tiger tickets on my birthday, and had a flat tire on the way to the game. It was about 88 that day and my Dad was soaked by the time the tire was changed, but we still made it to the game on time and had a wonderful day. It helped that my Dad was accommodating enough to head down to the stadium early enough for batting practice, and those extra hours ensured we'd make the first pitch. That game, like each we attended meant a new pennant for my bedroom. Back in the old days, like 1986, it used to be that the vendors would sell merchandise from the visiting team as well. The result was a felt triangle to commemorate the day.
My Dad taught me how to play the game – at least to the best of my limited ability. We played catch a couple times a week – including him squatting to give me a good target when I was pitching – despite arthritis that would leave him aching. He taught me about the history of the game. His baseball cards and autograph books let me see the game the way he saw it as a kid, when he'd take the bus to the stadium and wait outside the clubhouse until the players emerged hours after the game.
Now, as a father I have the pleasure of sharing my love of baseball with my son (and daughter). My four year old boy has recently started T-ball and has attended his share of Tiger games (Nook Logan is his favorite player). As for those pennants that I got as a kid, they are currently decorating his room. And my two year old daughter, she says hi to each Tiger as they come up to bat.
I know I've gone all sentimental, and "baseball as a metaphor for life" has been done repeatedly. I also know that if my Dad wasn't a great provider and loving man, that this baseball stuff wouldn't mean anything. But on this day, and in this forum, I just wanted to say thanks to my Dad who taught me, and my Grandpa who taught him. Thanks for serving as great role models of fatherhood. Thanks for introducing me to baseball. And thanks for teaching me to keep score.
And if you're interested, here are the scoresheets from game 1, game 3, and game 4 as well.