Previewing the Offense – Catcher, Outfield, and DH
Time to wrap up the season preview with catchers, outfield, and DH. The other previews are linked to below:
Rotation
BullPen
Offense-Infield
Catcher
The desperate Tigers gave a desperate Pudge $40 million dollars last year and everybody seemed to benefit. Rodriguez was instrumental in the Tigers return to the 70 win range, and found himself in the MVP race after batting .500 in June. His RC27 was 7.37 last year which was markedly higher than his previous 3 years (6.78, 6.98, 6.11). Pudge reported to camp substantially lighter this year, and it remains to be seen what effect it will have on his performance. It appears that most of the weight Pudge lost was in the midsection that contributed to his nickname. As such, I wouldn't expect a lack of bat speed. Like Carlos Guillen, he probably won't be able to replicate last season, however he'll still be very good. I'm also hoping that a "not-so-Pudge" will be able to log more playing time as well. A RC27 of 6.5 should be attainable over 140 games, meaning his RC total should be 101.
Former Met Vance Wilson will be assuming back up duties this year. His career RC27 is 3.7 which seems reasonable. Over the remaining games Wilson should have 9 RC.
Catcher: 110 Runs Created
Change From Last Year: +5
Outfield and DH
I was saving this for last for the sole reason that I really have no idea how playing time will be allocated. When Trammell kept Higginson, that really through things out of whack. Instead of looking at each outfield position seperately, I'll look at it as a group, and then explain what I expect from each player.
Below is a table with my best guess at playing time allocation: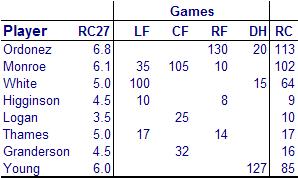 Magglio Ordonez
He was the easiest part of this exercise. He'll be playing right field or DH. I really think that the knee is fully recovered. Given his history of health prior to last year, I think he'll play the bulk of the season without incident. However, I think Tram will be cautious and "rest" him at DH about once a week or so. His RC27 the last 3 years was 5.94, 7.55, and 8.29. The 5.94 came last year and isn't probably indicative. I expect he'll bounce back from that, but be adversely effected moving from Cellular One to Comerica and am forecasting a RC27 of 6.5.
Craig Monroe
I'm expecting big things from Monroe this year. Though his performance the last two seasons differed substantially, the net result was still pretty good. Defensively I'm not expecting a gold glove, but I think the ability he does have, and his willingness to learn will make him passable in center. Two years ago his RC27 was 4.3 and it improved to 6.0 last year. At age 28, I think he's got a little room to improve and I'm projecting a 6.1 in 150 games across the three outfield positions.
Rondell White
I like Rondell. He seems to get a long with everybody in the clubhouse. He's a pretty steady performer. And he really seems to enjoy being a Detroit Tiger. However, defensively he's weak, and at 33 with his history of injury I think 115 games is realistic. His RC27 dropped from 5.7 to 5.2 last year. Despite his great spring, I'm expecting it to drop a little more to 5.0.
Bobby Higginson
The fact that Bobby made the team is pretty surprising. In fact, I had half of a "Closing the Books on Bobby" post already written. That being said, Higginson does have some value as a left handed pinch hitter in a lineup that is heavily righthanded. He won't get the game breaking hit with his sub .400 slugging percentage, but he should be able to keep a rally alive given his ability to talk a walk. I don't think he'll be getting a ton of starts, and barring an injury I think he'll be gone before June. His RC27 was 4.55 last year, and I'd expect about the same this year.
Marcus Thames
All spring you heard Trammell talking about guys having to "earn it." Thames had a huge spring, but lost out to Higginson. I think I may be low on my playing time predictions for Thames, but seeing as he isn't even on the big league club yet I wasn't sure how much to put him down for. A RC27 of 5.0 seems reasonable. If he exceeding that, he'll probably be getting himself some more playing time.
Nook Logan
Logan will get the occasional start in center, but by and large he will be a pinch runner and late inning defensive sub. He managed a surprising .340 OBA in limited time last year. That earned him a RC27 of 3.9. I don't expect he'll hit quite that well again and have him at 3.5.
Curtis Granderson
I don't know if he'll be the savior in centerfield everybody is hoping for or not, but he should be decent. I really have very little history to go on here. I do think he'll be in the majors before the September call-ups. I'm taking a shot in the dark on a RC27 of 4.5.
Dmitri Young
This leaves about 125-130 games for Young at DH (with him picking up about 15 games at first). I covered Dmitri briefly in the Infield section and I'm projecting a 6.0 RC27 for him next year.
Outfield: 307 Runs Created
Change From Last Year: +39
DH: 107 Runs Created
Change From Last Year: +26
Wrapping it All Up
So in total, I have the Tigers offense scoring 896 runs this year. Last year that would have been good enough for third place. Now each player prediction on its own seemed plausible, but the total seems a little optimisitic to me. Combined with the 59 run improvement I have in store for the pitching staff, and their pythagorean record becomes 91-71. While it would make that season ending series in Minnesota very interesting, I think a 90 win season would be pretty much best case.
I expect the Tigers to settle in with a win total of about 83, but anything from 79-86 wouldn't really surprise me. A win total anywhere in the range would probably clump them with Cleveland and Chicago. So they could finish anywhere from second to fourth. I think they are better than Chicago, and just a hair behind Cleveland so I'm picking them to finish 3rd.
My biggest concern heading into this year is the defense. It was awful last year, and the Tigers didn't really make substantial moves to improve it. Yes, Eric Munson is gone, but Munson was only making errors for half a season at one position. Also gone is Alex Sanchez, but he has been replaced with a corner outfielder. Add in Carlos Guillen, who was slightly above average last year, probably losing some range due to his knee injury and the team outlook isn't that good. The toll the defense takes on a young pitching staff could be substantial.
Speaking of young pitching, I'm most excited to see what Jeremy Bonderman can do this season. He's poised to make "the leap." Whether or not it happens remains to be seen. I'm also curious to see how Tram manages this year. He's acknowledged that he doesn't have a speed team, and hopefully his small ball tendencies will continue to wane.
In any case, enough previews and predictions. Let's Play Ball!