Previewing the Pen
Today I present Part II of my three part season preview. Last week I took a look at what the rotation should accomplish this year. Part II will focus on the bullpen (with the offense coming later this week).
No area of the team has undergone more change since last season, and no area needed it as much. Gone are Esteban Yan, Al Levine, Danny Patterson, and Roberto Novoa. Those four accounted for 220 of the bullpen's 480 innings. Replacing them are Troy Percival, Kyle Farnsworth, a newly focused Franklyn German, and a cast of several. Fernando Rodney, coming back from Tommy John surgery, will join the fray once his shoulder stiffness heals. Other candidates to spend some time in a relief role this season are Gary Knotts, John Ennis, Andrew Good, Jason Grilli, and Mark Woodyard.
Here is what the pen did last year: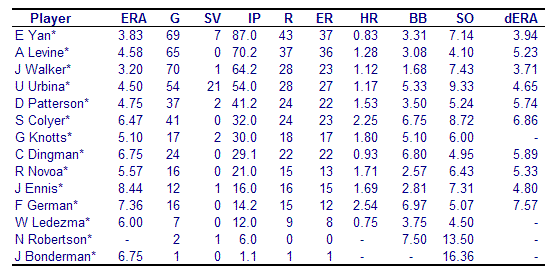 Ugueth Urbina
Urbina was solid in converting save opportunities, and he held opponents to a .194 batting average. However, his high walk rate led to some stressful 9th innings. He was still an effective pitcher, but he wasn't dominant by any means. The bullpen collapsed without his presence in September when he left the team in the wake of his mother's abduction. This year he will be moved to the set-up role. Assuming he is here for the full year, I would expect him to see about 70 innings of work. His ERA was higher than it had ever been in his career before, probably due in large part to his walks. What isn't known is if he had control issues, or if he has turned into more of a nibbler. I'd guess that his runs allowed would drop slightly this year, but it probably won't be below 4. Urbina Runs Allowed: 33
Troy Percival
There was a time several years ago when Troy Percival was one of the most dominant closers in the game. Unfortunately, injuries and age have sapped some of that dominance. Percival has seen his strike out rate drop 46% over the last 3 years. Opponents hit .230 off him last year, which is still impressive. However it pales in comparison to his career .186 mark.
The good news is that Percival closed 2004 strong. After the All Star break he posted a 1.67 ERA and a 3:1 strike out to walk ratio. If the second half is indicative of Percival's ability then the Tigers will be in good shape. Add in the fact that he's a flyball pitcher pitching in a homer un-friendly division, and it could amount to a solid season. The thing to watch is how much will he be able to pitch. The Tigers need to get 55 innings from him, a total he hasn't hit since 2002. If he stays healthy, and pitches more inline with the 2nd half of 2004 then: Percival Runs Allowed: 26 Runs
Jamie Walker
Jamie Walker looks to be the sole left hander in the bullpen. Fortunately, Urbina and Gary Knotts had success against lefties last year as well. Walker wasn't used as a LOOGY last year as he amassed 64 innings, due in large part because he was their most effective reliever. With the additions of Percival and Farnsworth, I'd anticipate that Walker's innings would go down as he's used more as a lefty specialist. While his innings will go down, his performance should improve as he is put in better situations. I see Walker pitching about 55 innings, and because he'll be facing more left handed batters I see him allowing: Walker Runs Allowed: 21
Kyle Farnsworth
I have no idea what to project for Kyle Farnsworth. He's been very good (2001, 2003) and he's been awful (2002) at different points in his career. PECOTA puts him at 62 innings and a PERA of 4.20. I'll stick with their ERA projection, but I'll bump him up to 70 innings. Farnsworth Runs Allowed: 32
German, Rodney, etc.
And then there's the rest of the bullpen. Franklyn German will break camp with the team. German has a history of doing great in the minors and spring training, only to lose sight of the plate in the majors. He's out of options, so he'll be given every chance to succeed this year. Fernando Rodney will begin the season on the disabled list but should join the team later in April. He has a tremendous change up and if he pitches like what is expected he will make Urbina expendable. Gary Knotts is another pitcher out of options. Rodney's injury may give him a shot to break camp with the team. Barring further injuries, or severe struggles by Wil Ledezma I don't see Knotts in the organization at the end of the season.
With Percival, Urbina, Walker, and Farnsworth picking up 250 innings, that leaves 220 innings for these last two bullpen spots. Without knowing how those last two spots will be manned, I'll use replacement level rates (5.73) for those innings. I'm hoping that German and Rodney develop in to solid pitchers and are better than replacement level, however this will help to offset some of my more optimisitic predictions for Percival and Farnsworth. The Rest of the Pen: 140 Runs Allowed
Summary
In total that leaves the bullpen pitching 460 innings and allowing 251 runs. Last year they pitched 480 innings and allowed 280 runs. Combined with the improvement in the starting rotation, the Tigers should allow 59 fewer runs in 2005.
Disclaimers
I know there are lots of reasons why this could be a big pile of hooey. These are just my educated guesses first of all. Second, injuries could undermine this. Third, my projections for Percival and Urbina are on the optimistic side to say the least. Fourth, the Tigers defense, which was poor last year, probably won't be greatly improved this year which could hurt the pitching staff.