A couple posts ago I looked at an article that Rob Neyer wrote about how Derek Lowe may be a good fit for Dodger Stadium. I then made the comment that he wouldn't be a good fit for the Tigers because Comerica yielded few homers and lots of other extra base hits. Of course I made that comment based completely on subjective gut opinion.
I decided to take a closer look at how Comerica park actually played last year. It turns out that Comerica, while it did yield more triples than any other park, was actually the second hardest place in the majors to get a double. I don't have a clue as to why this is. It may be that some of the doubles turn into triples because of the depth of centerfield. It may be that because the outfield is so spacious the outfielders play deeper an will concede some singles to reduce doubles. I'm not sure what the cause is, but it is interesting nonetheless.
I took it a step further and decided to look at how all 5 parks in the AL Central play. This is relevant because the Tigers will play about 70% of their games between Comerica, US Cellular, the Metrodome, Kauffman, and the Jake. Based on ESPN's park factor statistics, I compiled the following table of how each stadium ranks for each type of event: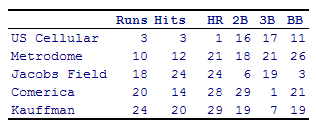 If ever there was a division for a fly ball, home run prone pitcher to have success in (or hide), it would be the Central. With the exception of the launching pad that is Chicago's US Cellular Field, the other stadiums all rank in the bottom third of the majors in homers allowed.
While from a runs perspective the Metrodome is a hitters park, it isn't a slugger's paradise. Across the board it doesn't yield a lot of extra base hits. I'm guessing that the Metrodome allows more turf fueled singles than its counterparts.
The Jake is a tough place to find a hit, unless it's doubles you're looking for. For some reason it is also one of the top places to get a walk. Kauffman meanwhile, has a similar, though less dramatic effect, as Comerica when it comes to extra base hits.
This homerun suppression across the division (of course Chicago is the exception) may be another reason that players are staying away from the Central. It is also a reason to be cautious when pursuing Magglio Ordonez who, while still a very good hitter, has probably benefitted from his home park.
Other Stuff
-To make room for Vance Wilson on the 40 man roster, the Tigers DFA'd Alexis Gomez last week. Today he was outrighted to Toledo. He will be invited to spring training as a non-roster invitee.
-When I've covered Tigers' roster composition in the past, I've mentioned that they only have 3 players signed beyond next year. That's almost correct. Dmitri Young has two option years remaining. The option in 2006 is for $8.5 million, and 2007 is $7 million. I'm not sure about the type of the option for the second year, but the 2006 option is based on playing time in 2005. Unfortunately I don't know what the game or plate appearance threshold is for that to kick in.